Cats bring us joy and we laugh everyday thanks to our fur friends. We decided to share with you 7 hilarious cat books that you need to read. They make great gifts for crazy cat lovers who appreciate hilarious insights into the feline nature. Click on the book titles to read reviews at Goodreads.com which includes links on where to buy them online.
Goodreads Choice Award for 2016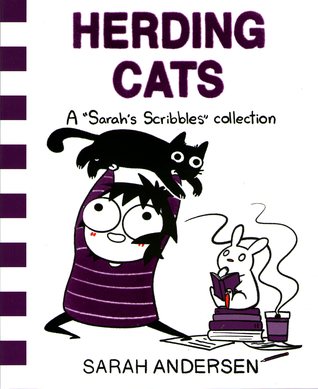 Author Sarah Andersen uses hilarious (and adorable) comics to illustrate the very specific growing pains that occur on your way to becoming a mature, put-together grownup. Andersen's spot-on illustrations also show how to navigate this newfound adulthood once you arrive, since maturity is equally as hard to maintain as it is to find.
THE PERFECT GIFT for those who value elegance, affection, cold hearted killing and expensive, clawed to death furniture. This delightful book is the latest in the series of Ladybird books which have been specially planned to help grown-ups with the world about them.
Grumpy Cat has one mission– to help everyone master the art of GRUMP! She is working to teach the world how to say "NO" everything. In her latest book, she has collected all her least favorite things and can't wait to tell everyone what to think about them. Nothing sweet is safe from this famous frown.
Lil Bub is a star. The adorable "perma-kitten" might look a little different than other felines, but her tiny size, toothless mouth, and extra toes have made her the darling of cat lovers around the world.
Aided by her human, this celebri-cat is finally satisfying her demanding public with a book. Showcasing 100 captioned full color photos of Lil BUB —traveling through space, exploring the Earth, flying in hot air balloons, napping, and even skateboarding.
This book features the super-amazing, 100% awesome AC the cat in tons of purrrrfectly hilarious costumes. But really, why are you still reading this? Go on, see for yourself why this is truly the most awesome thing that will ever grace your bookshelves!
In I Can Has Cheezburger?, Professor Happycat brought LOLcats to the wurld. Nao he has gone back to his lair for 200 all-new LOLcats that give all aspiring kittehs the lessons they need to take over teh world (or at least their hoomins). A LOLcat is a picture of a cat with a funny, misspelled, caption. LOLcats are from the Internets and are full of win!
Here are the illustrated teachings of one wise cat in a book that may, very possibly, change your life. The book covers everything from grooming, health, and diet to being completely well-adjusted, and imparts perhaps the most valuable piece of advice a cat could give: "There is always time for a nap."
looking for more gift ideas?
Explore our range to find the perfect gift for everyone on your list.